Today I realized that Nerdfighteria, to non internet-y type people, seems like a really strange cult. I was wearing my DFTBA shirt at the airport and this guy noticed and it was really awesome but it probably scared the shit out of my parents—like, we have a cryptic greeting, and a hand signal, and a bunch of weird references that nobody gets. My mom thought it was some sort of brotherhood or religious order. We even have holy texts.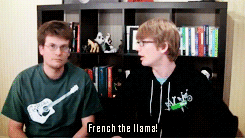 HOO HA! NERDFIGHTERS!
Notes
reblogsbytheinquisitivewanderer reblogged this from thunderboltandlightning and added:

HOO HA! NERDFIGHTERS!
Top of Page